Dibaajmowin
The inaugural edition of the Kinoomaadziwin Education Body's monthly newsletter is now available for reading!  Dibaajmowin will be published every month on the website and will be distributed to all Participating First Nations via email.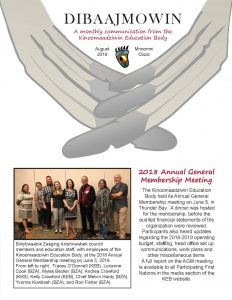 KEB Reports
Public documents published by the Kinoomaadziwin Education Body can be found below.  These may include annual reports, conference summaries, special reports, etc.  For additional information on a particular document, please contact the KEB head office.
Niigaan Gdizhaami - We Are Moving Forward Together - 2018 Forum Report
The third annual Niigaan Gdizhaami Forum was held on February 26 & 27, 2018, in Toronto, Ontario.  Once again a successful event, the forum's annual report and documentation is available in the links below.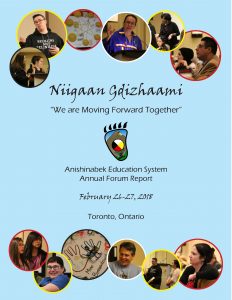 Niigaan Gdizhaami - We Are Moving Forward Together - 2018 Forum Report
Supporting Materials:
1. Ngo Dwe Waangizid Anishinaabe
2. 2018 Agenda
3. Bios for Co-Chairs and Speakers
4. Report from February Forum 2017
5. KEB Board and Officers Information Sheet
6. KEB Staff Information Sheet
7. AES Map and Organizational Chart
10. Summary of 2017 REC and School Board Meetings
11. Summary of the Education Implementation Plan
14. Questions Sheet for ESA Guidelines Breakout Sessions
15. Summary Sheet on Research and Evaluation 
16. Template for Feedback on Research and Evaluation
17. Explanation of the Puzzle Exercise
18. a) Workshop #1 -  Roslyn Bowness & David Newhouse
b) Workshop #2 - Elizabeth Bigwin & Alison Bradshaw
c) Workshop #3  ACHWM & Suzanne Gordon
d) Workshop #4 - Colleen Sheriff & Sandy Yep
e) PPT Keynote Speaker Alan Corbiere
f) PPT Keynote Speaker Jan Haugen
19. Plain Language Master Education Agreement
20. Conference Evaluation Form
2018 Annual General Membership Report
The Kinoomaadziwin Education Body hosted its meeting of the Annual General Membership in June 2018.  A summary report is available below.