Kinoomaadziwin Education Body
The Kinoomaadziwin Education Body (KEB) is the central administrative structure for the Anishinabek Education System and distributes education funding provided by the federal government to the Participating First Nations (PFNs). The KEB takes direction from the PFNs to support the implementation of the Regional Education Councils (RECs) educational priorities, while working with the PFNs to establish system-wide education standards and manage education relationships with the Ontario Ministry of Education.
The Participating First Nations will work together through the KEB to identify and manage their educational priorities and the systems' governance. Currently, there are 13 Directors selected by the First Nations to the Board of Directors to oversee the work of the KEB. A Finance Committee will oversee the distribution of education funds received from Canada. 
Regional Education Councils (RECs)
The Anishinabek Education System has four regional education councils.
Regional Education Council 1
Biinjitiwaabik Zaaging Anishinaabek
Long Lake #58 First Nation
Netmizaaggamig Nishnaabeg' First Nation
Biigtigong Nishnaabeg
Regional Education Council 2
Atikameksheng Anishnawbek First Nation
Aundeck Omni Kaning First Nation
Sheshegwaning First Nation
Zhiibaahaasing First Nation
Whitefish River First Nation
Michipicoten First Nation
Regional Education Council 3
Dokis First Nation
Henvey Inlet First Nation
Magnetawan First Nation
Moose Deer Point First Nation
Nipissing First Nation
Wahnapitae First Nation
Wasauksing First Nation
Regional Education Council 4
Aamjiwnaang First Nation
Chippewas of Georgina Island First Nation
Munsee-Delaware First Nation
Chippewas of Rama First Nation
Mississaugas of Scugog Island First Nation
Beausoleil First Nation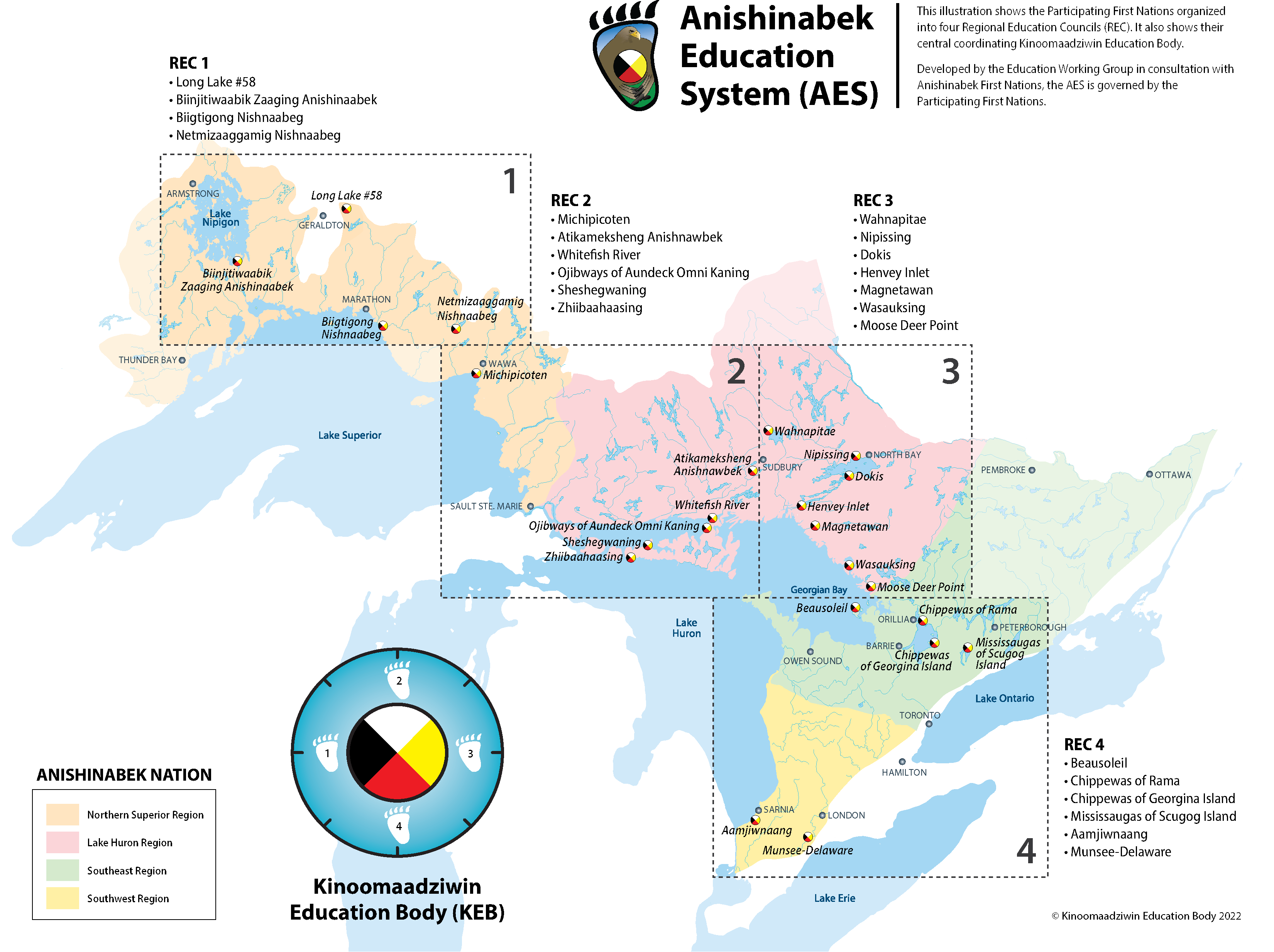 About the Logo
The logo symbolizes the values and beliefs of the Anishinabek. It represents Anishinaabe knowledge – the Anishinaabe world-view and thought.
The four colours: the four colours found in the centre circle represent our communities and our people, E'Dbendaggzijig: children, youth, adults and Elders.
The bear paw: symbolizes the strength and protection that our language and customs provide for us, like a Mother Bear provides for her cubs. It also speaks of healing for Anishinabek.
The Eagle: represents our spiritual connection to all of creation and the responsibility of Binaase to provide for the education of the people – the truth.
Our logo in all of its meanings captures the traditional and modern belief that education is both a parental and community responsibility.
Anishinaabe Kinomaadswin Nongo. Anishinaabe Pane!