Welcome to the Kinoomaadziwin Education Body
Participating First Nations (PFNs) work together through a central administrative structure called the Kinoomaadziwin Education Body (KEB). The KEB takes direction from the PFNs. The KEB supports First Nations in their delivery of education programs and services and liaises with the Province of Ontario on education matters.
The Kinoomaadziwin Education Body distributes education funding provided by the federal government to the PFNs. Under the direction of the PFNs, the KEB supports the implementation of the Regional Education Councils (RECs) educational priorities, while working with the PFNs to establish system-wide education standards, and manage education relationships with the Ontario Ministry of Education.
The PFNs work together with the KEB to identify and manage their educational priorities and the Anishinabek Education System's governance. Currently, there are 13 Directors selected by the First Nations to the Board of Directors to oversee the work of the KEB.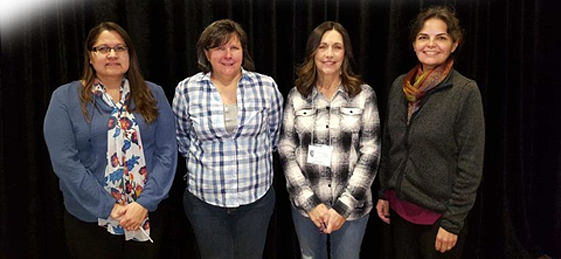 KEB Board of Directors
The new executive of the Kinoomaadziwin Education Body board of directors includes: Lisa Michano from Biigtigong Nishnaabeg (Co-Chair), Catherine Pawis from Wasauksing (Chair), Lauri Hoeg from Georgina Island (Treasurer) and Evelyn Ball from Chippewas of Rama (Secretary).

The Anishinabek Nation
For more than 20 years, the Anishinabek Nation and its member communities have worked to establish the Anishinabek Education System (AES). The Anishinabek Education System is based on the Anishinabek First Nations' inherent jurisdiction over on-reserve education.
The Agreement with Canada provides reliable funding to operate the stand-alone education system parallel to its federal and provincial counterparts, and to have full control over allocating education funding. The funding allows for the delivery of educational programs and services for students from Junior Kindergarten to Grade 12. In addition, funding support for post-secondary is included.