Destreamed Mathematics with Jason To
August 17 @ 8:00 am

-

5:00 pm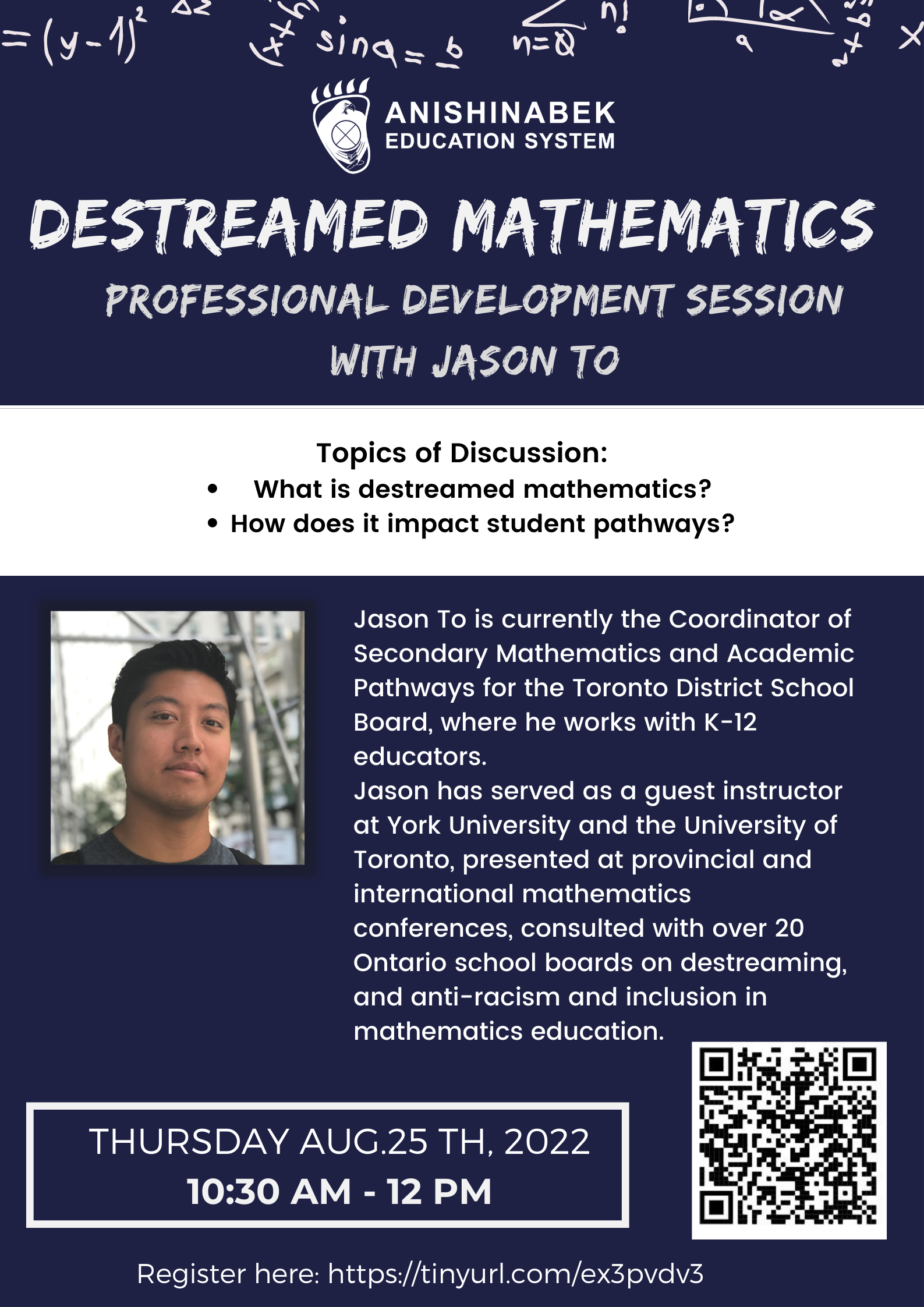 Welcome back to the 2022-2023 School Year!
Join us for a virtual session titled "Destreamed Mathematics at the Secondary Level", on Thursday August 25th, from 10:30 am to noon.
The destreamed mathematics course in Grade 9 was implemented in September 2021 and will continue this fall. It is important to understand what this means for Anishinabek students and how it can impact their education pathways.
The KEB will be welcoming guest presenter Jason To. Jason To is currently the Coordinator of Secondary Mathematics and Academic Pathways for the Toronto District School Board, where he works with K-12 educators to address structures and practices related to academic streaming and set the conditions to support more equitable, inclusive and culturally responsive teaching, particularly in mathematics. In 2015, Jason was a department head in a northwest Toronto high school where he was the first teacher in TDSB to eliminate Applied math classes and instead offered inclusive Grade 9 Academic math, which led to significant achievement gains, particularly for students with special education needs.
Jason has served as a guest instructor at York University and the University of Toronto, presented at provincial and international mathematics conferences, consulted with over 20 Ontario school boards on destreaming, and anti-racism and inclusion in mathematics education, and was part of the Ministry of Education's writing team and professional learning sessions for the 2021 destreamed Grade 9 mathematics curriculum.
Jason will be presenting virtually to the Anishinabek Education System covering topics such as:
What is destreamed mathematics?
How is it different than levelled math courses, how does it affect student pathways?
Register in advance for this meeting:
https://us06web.zoom.us/meeting/register/tZUrf-ytrT0uGNDPyLMnzYoUyeUJfkgV-3OF