AES Special Education Resource Review and Feedback Sesssion
August 23 @ 1:30 pm

-

3:00 pm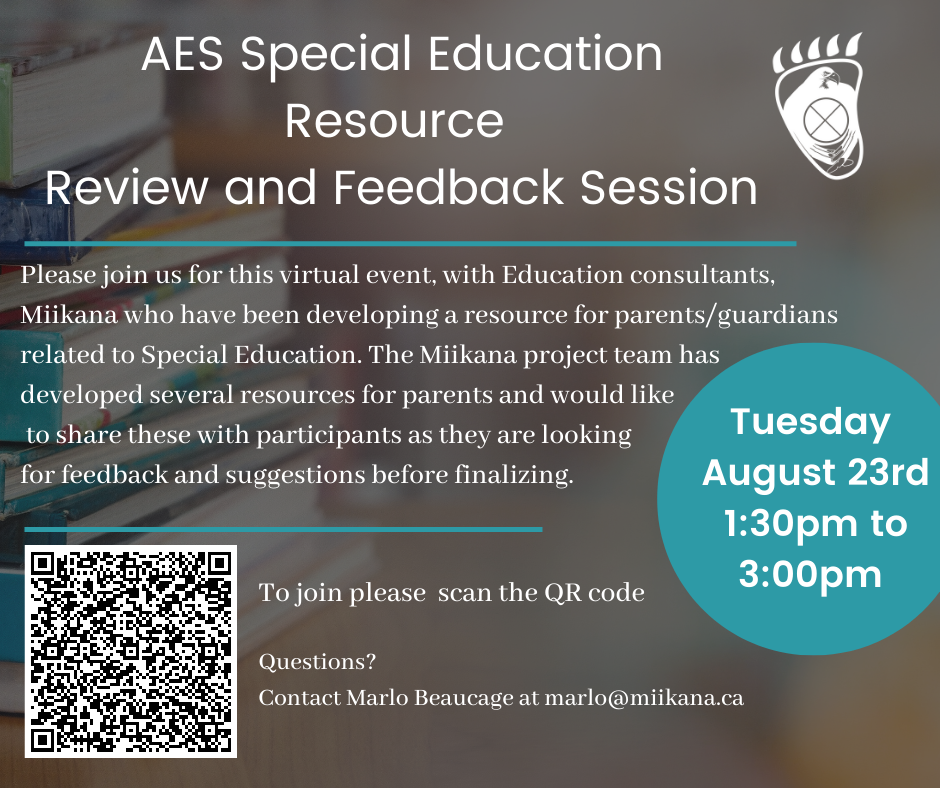 Education consultants, Miikana, have been hired by the Kinoomaadziwin Education Body to assist with developing a resource for parents/guardians related to Special Education. Over the past several months, the project team from Miikana have met with each of the Regional Education Councils and Education Directors to introduce the project. Within these meetings, the team has had the opportunity to listen to the suggestions of possible topics that could be developed as a resource for families. From these sessions, the Miikana project team has developed several resources for parents and would like to share these with participants as they are looking for feedback and suggestions before finalizing.
The team would like to meet with Principals, Special Education Resource Teachers, key staff members, parents and guardians that could provide input, suggestions, and feedback on the draft resources.
A virtual session will be held on Tuesday, August 23 from 1:30 pm to 3:00 pm. At this time Miikana will facilitate and present their findings and some of the sample resources.
If you have any questions about this session, please contact Marlo Beaucage. Email: marlo@miikana.ca
We appreciate your time and dedication to this project.
Miigwech!