AES Addressing Racism Professional Development – Session 3
March 21 @ 3:00 pm

-

4:00 pm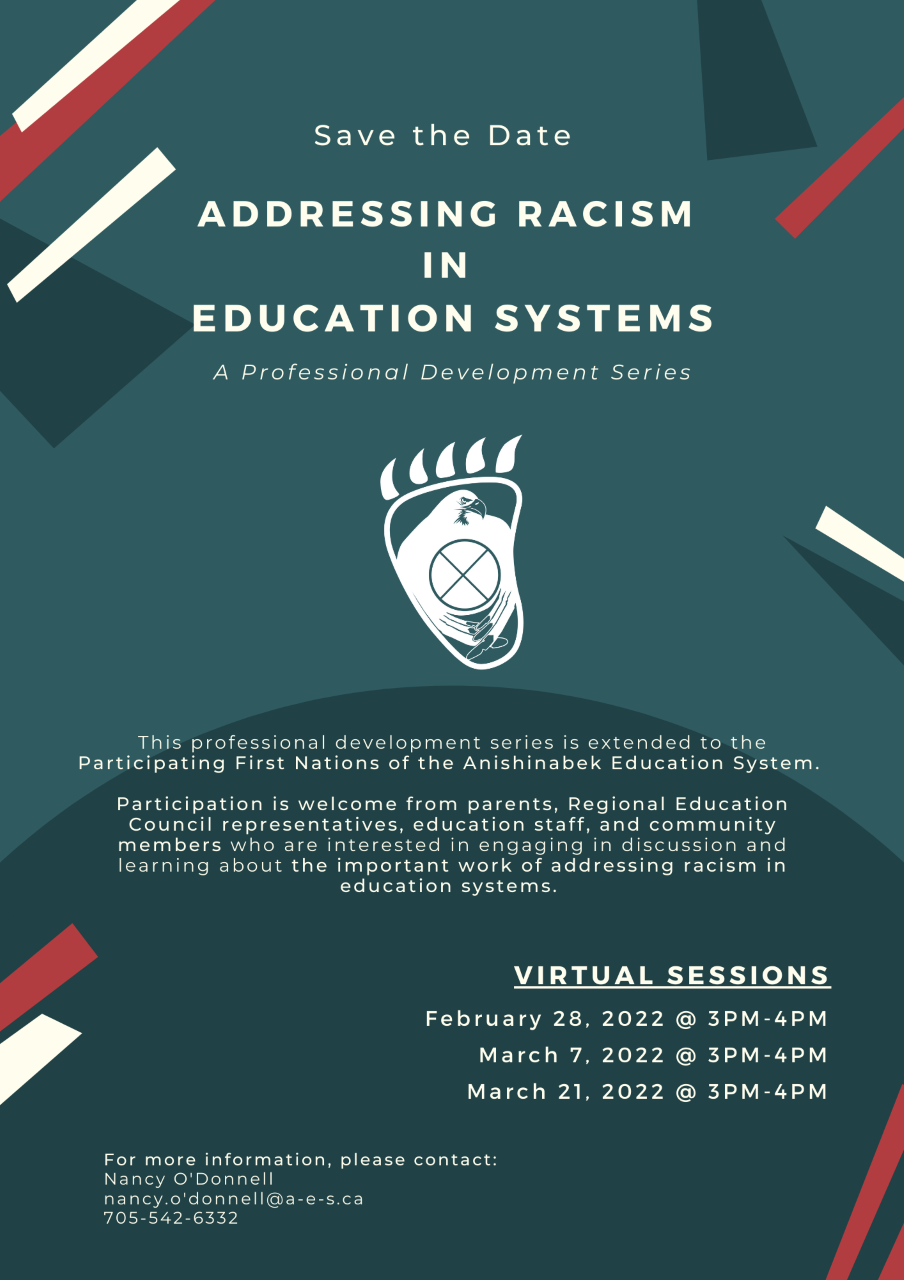 Please save the date for an upcoming series of professional development sessions focused on Addressing Racism in Education Systems. The sessions are open to Participating First Nations of the Anishinabek Education System, and we welcome the participation of parents, Regional Education Council representatives, education staff, and community members who are interested in engaging in discussion and learning about this important work. The Kinoomaadziwin Education Body will be working with a consultant to facilitate the sessions and support the development of the online modules.  We look forward to working alongside the facilitators and with all participants to advance our understanding and responsiveness to addressing racism and inequities in schools.
A series of three virtual sessions will be held on the following dates:
Monday, February 28, 2022 @ 3:00-4:00 pm
Monday, March 7, 2022 @ 3:00-4:00 pm
Monday March 21, 2022 @ 3:00-4:00 pm
REGISTER NOW: https://forms.office.com/r/QaqbAq0jcE
This registration form will indicate your interest in receiving access to the online module that will support the discussions in each of the three sessions.  Please note that each session will focus on different topics related to addressing racism in education systems.  Participants are encouraged to attend all or as many of the sessions as you are able. Once you have registered, the link for the module will be sent to you on February 21. Participants who register after February 21 will receive the link to the online module shortly after the registration is received.
MEETING LINK: https://teams.microsoft.com/l/meetup-join/19%3ameeting_Y2Q4NWEwZTktZjJlNi00MjZlLThjNjUtYTA5MDg0Yzg5ZGIz%40thread.v2/0?context=%7b%22Tid%22%3a%22c8535347-0fab-44b9-a398-1a645333dad4%22%2c%22Oid%22%3a%22a350d7ef-39df-48f7-a30f-ecac769b347c%22%7d
For more information, please contact Nancy O'Donnell, Multi-Year Action Plan Manager, at nancy.o'donnell@a-e-s.ca.